Traditionally this Lebanese salad is served with parsley, but this Kalettes® variation gives this dish a deeper taste that makes it great, either by itself or served with something meaty, such as Chicken Shawarma.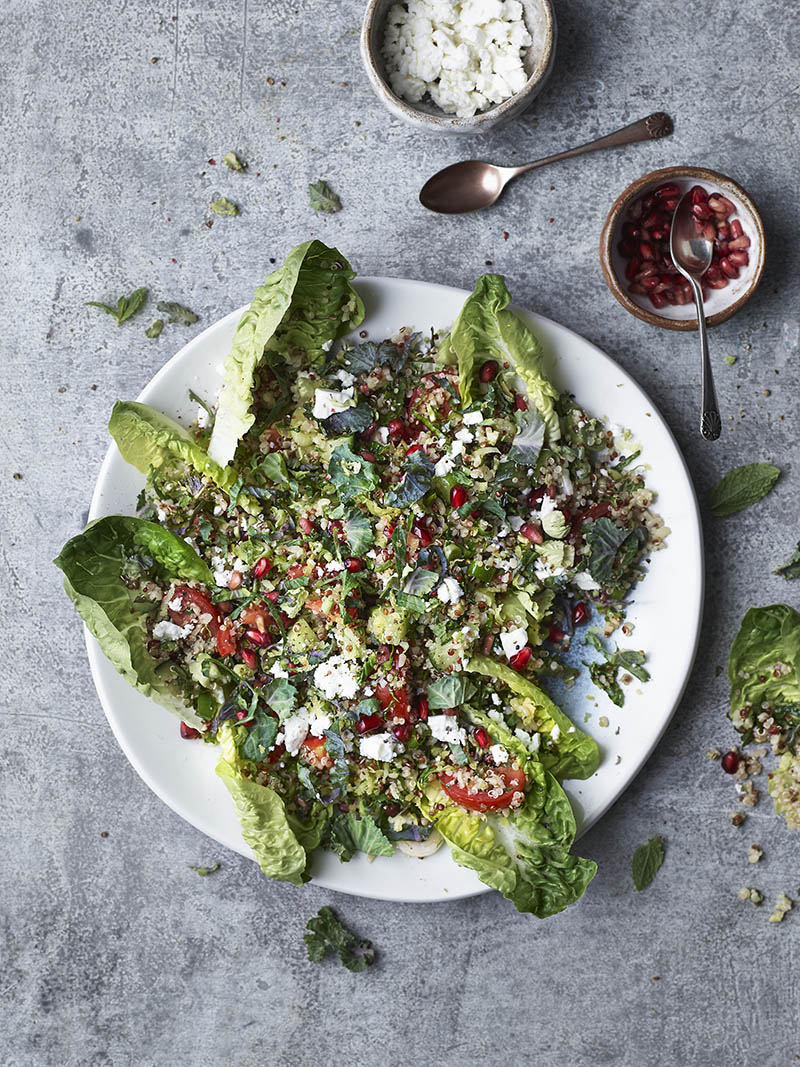 • 1 Pack Kalettes®
• 130g Bulgur Wheat
• Seeds Of 1/2 Pomegranate
• 1 Large Bunch Mint, Roughly Chopped
• 1 Bunch Spring Onion, Sliced
• 1/2 Cucumber, Diced
• 5 Tomatoes, Deseeded And Chopped
• Pinch Of Ground Cinnamon
• Pinch Of Ground Allspice
• 6 Tbsp Olive Oil
• Juice And Zest . Lemon
• 150g Feta Cheese, Crumbled
• 4 Baby Gem Lettuces, Leaves Separated, to Serve
Tip the bulgur wheat into a heatproof bowl and just cover with boiling water, then cover with cling film and set aside for 10-15 mins or until tender.
Wash the Kalettes®, separate the leaves and dry thoroughly.
Place the Kalettes® leaves in a food processor and pulse to fine pieces. Alternatively chop with a sharp knife to a fine consistency.
Stir the Kalettes®, pomegranate mint, spring onions, cucumber and tomatoes through the bulgur wheat.
Season with the cinnamon and allspice, then dress with the olive oil and lemon juice to taste.
Scatter over the lemon zest and feta to serve or alternative vegetarian and vegan soft cheese alternatives.
More delicious Kalettes
®

recipes for you to enjoy…